How does the OSMO Patch work?
We are very often asked the question… 'Exactly how does the OSMO Patch work?'
Well this is a great question! It is so pleasing for us to see how many people are now taking such an active approach to better understanding their treatment options in order to maximise their health outcome.
To best answer this question we have produced this short easy to follow 4-5 min video at the request of many of our customers. We hope that this video is helpful in allowing you to better understand the biological processes which allow the OSMO Patches to naturally remove fluid, reduce swelling and alleviate the associated pain.
A Visual Guide
A visual guide on how the OSMO Patch works.
Step 1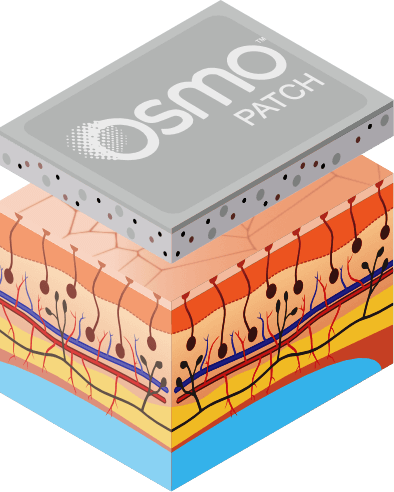 Adhere the patch/pad directly over the targeted area just before going to bed.
Patch/pad should optimally be worn for approximately 6-8 Hrs.
Adhere the patch/pad directly over the targeted area just before going to bed.
Patch/pad should optimally be worn for approximately 6-8 Hrs.
Step 2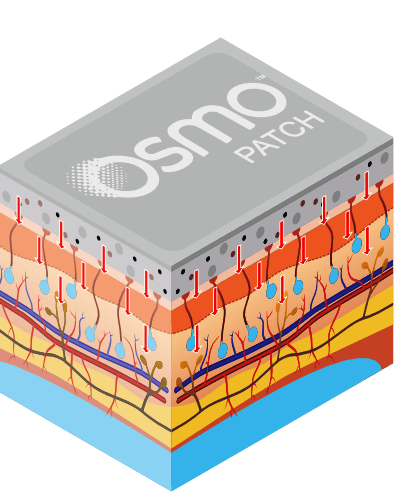 Shortly after the patch/pad is adhered to the skin, they will begin to emit far infrared heat.
Far infrared heat moves as small energy waves, easily penetrates the skin directly under the region where the patch/pad is applied.
Underlaying receptors of the sympathetic nervous system are then activated throughout the night until the the OSMO Patch is Removed.
Step 3
The sympathetic nervous system then directs the body to begin cooling the area by moving fluid to the surface of the skin.
As the fluid reaches the surface of the skin it is quickly whisked away and absorbed into the patch/pad before any cooling process can begin.
Unabated, this heating and fluid removal process continues throughout the night until the OSMO Patch is removed.
Thanks to the natural power of osmosis underlying fluid is subsequently removed from the target area.
Step 4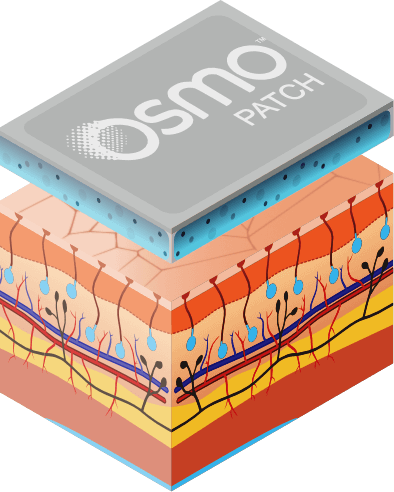 The patch/pad is then simply removed and discarded in the morning after a 6-8 hrs application period.
This process is then repeated each consecutive night until completed.
When losing your lifestyle is not an option!
OSMO patch is used by thousands of people around the world to reduce inflammation and associated pain due to Bursitis, Baker's Cyst and many other joint related ailments… all from the comfort of their own home.
For less than the cost of a visit to a specialist, there is little to lose except for your pain!
After watching this video you may also like to read some of the many fantastic testimonials that people have sent to us. Many of these individuals are people just like yourself who were also looking for a non-invasive and natural alternative, making the choice to experience the OSMO Patch for themselves. Click here to read what they have to say!
Testimonials
Real accounts by real people. Hear what they have to say!
Joint Pain
I got it yesterday! Used it last night and it is already helping with the pain quite a bit! Thank you so much for your considerate responses.

Jeanette Q
IL, United States
Baker's cyst
Dear Folks in Australia, I have just placed my third order with you for your OSMO Patches because they do work and I am so impressed with how they work. No one here at my end has ever seen anything like your patches and I love telling people about them. I suffer from a Bakers […]

Patty C
Michigan, United States
Elbow bursitis
On applying your patch to my elbow for three days the bursitis disappeared. Simply amazing. My elbow and shoulder were both injured at the same time. They were attended to by a highly respected orthopaedic physician. After treatment, my shoulder fully recovered but the bursitis continued in full bloom. My doctor did not suggest draining […]

Robert F
Florida, United States
Bursitis in the knee
Hi I ordered these patches for my son who has terrible bursitis in his knee. He owns a carpet installing business and the constant kicking has really damaged his knee..He took meds..had steroid shot…nothing worked…The doctor told him he needed surgery… I had found your patches on line and they have worked for him. Thanks […]

Sandra C
Rochester, United States
Baker's cyst
I used the patch for 3 days and I do a difference in the size of the cyst, how many days in a row can the patch be used? Any restrictions?

Elizabeth C.
New Jersey, United States
Baker's cyst
I recently ordered the OSMO Patches – and have already felt the pain decrease on my baker's cyst.. Thank you.

Patricia N
Arizona, United States
Baker's cyst
I have used the patches for a week now and am happy to say that the swelling of my bakers cyst has reduced to the point of very little pain now. I am so pleased that I will tell my consultant about the patches, and my daughter who is a holistic nutritionist. She will recommend […]

Bursa on the elbow
My name is Garry Gracey; I am a former HANDBALL CHAMPION. I banged my elbow while playing handball. It became swollen after a few days and my family doctor recommended not to drain the bursa on the elbow but to have it take its natural healing course. "Being impatient" I googled and found OSMO […]

Garry I. Gracey, Notary Public
British Columbia, Canada
View More Testimonials
Disclaimer